Jurassic World: Dominion Dominates Fandom Wikis - The Loop
Play Sound
Below you'll find all the recipes currently available in the game. For details on how this works, see Cooking. If you think the chart below is altogether incorrect and you have a better explanation, read Cooking Investment.
Profit Chart
For each recipe below, the following items are listed: Level of stove required, Time to cook, Ingredient Value if sold instead of cooked, Profit made by Cooking the ingredients instead of selling them and if the item is Useable. Yes means it is used in another Design or Recipe, No means it has no further uses, and K stands for keep for items that have no further uses now but most likely will be used in the future. Explanatory notes are below the table.
Profits do not consider costs to research or to purchase stoves, animals, or trees because these are one time costs.
Ingredient Costs consider only planted crops, assuming a full average yield before any stealing. Both seeding and plowing costs are included. Costs are rounded to the nearest half coin.
If an ingredient is the product of another recipe, the value of the cooked ingredient is listed first, followed by the value of its component parts. For example, Cornbread is made with 1 cows milk and 8 cornmeal. Cornmeal is made with 5 corn. The value of 1 cows milk and 8 cornmeal is listed first, followed by the value of 1 cows milk and 40 corn. The same is true for Cooking Profit.
Upgrading
Main article: Upgrading Recipes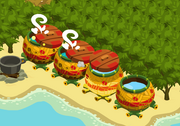 Recipes can be upgraded by cooking a lot of the same one. You can check how many by hovering over the first star on the recipe you want to cook.
Stars mark the number of upgrades you have. Once you have gained the star, it turns yellow. Stars indicate how likely you are to make an "excellent" recipe. For each star you gain, you gain 10% in the chances you'll make an excellent recipe, to the maximum of 3 stars, or 30%. An excellent recipe is one that gives you 1 additional xp when you harvest it. You can tell a recipe is an excellent one when you go to harvest it. The stove you have it cooking in will have large round sparkles rising from it along with the steam. Excellent recipes will not give you more coins. Thus they are not a separate item when you harvest it. It will stack with the other recipes.
Gaining a star will also give you experience. For the first star, you gain 25xp, and can make a post for your neighbors to give 10xp. For the second, you gain 50xp and your post gives 25xp. For the third and final star, you gain 100xp and your post gives 50xp.
Recipes
Note: All ingredients must be obtained from the right type of animal. So you cannot replace the Milk from a Cow, Brown Cow or Holstein Cow with milk from a Goat. This applies to all recipes.
Level 1
Level: 1
Time: 7 Minutes (Slow)
Sell: 84 Coins
Ingredients: 7 Beans
Level: 1
Time: 5 Minutes (Fast)
Sell: 76 Coins
Ingredients: 3 Bamboo
Unlocked for 400 Coins
Level: 1
Time: 5 Minutes (Fast)
Sell: 78 Coins
Ingredients: 3 Oranges, 5 Pomegranates
Unlocked for 1400 Coins
Level: 1
Time: 5 Minutes (Fast)
Sell: 49 Coins
Ingredients: 4 Milk
Unlocked for 300 Coins
Level: 1
Time: 6 Minutes (Fast)
Sell: 108 Coins
Ingredients: 1 Butter, 3 Brussel Sprouts
Unlocked for 550 Coins
Level: 1
Time: 5 Minutes (Fast)
Sell: 30 Coins
Ingredients: 5 Cabbage
Level: 1
Time: 5 Minutes (Fast)
Sell: 24 Coins
Ingredients: 1 Cacao Bean
Unlocked for 100 Coins
Level: 1
Time: 5 Minutes (Fast)
Sell: 60 Coins
Ingredients: 5 Corn
Unlocked for 250 Coins
Level: 1
Time: 6 Minutes (Fast)
Sell: 86 Coins
Ingredients: 2 Eggs, 1 Sugar, 4 Dates
Unlocked for 640 Coins
Level: 1
Time: 6 Minutes (Fast)
Sell: 56 Coins
Ingredients: 1 Guppy, 3 Potatoes
Unlocked for 600 Coins
Level: 1
Time: 6 Minutes (Fast)
Sell: 360 Coins
Ingredients: 8 Flax Seed & Fibers
Unlocked for 700 Coins
Level: 1
Time: 4 Minutes (Fast)
Sell: 164 Coins
Ingredients: 4 Wheat
Unlocked for 400 Coins
Level: 1
Time: 3 Minutes (Fast)
Sell: 169 Coins
Ingredients: 1 Honey, 2 Ginseng Root
Unlocked for 600 Coins
Level: 1
Time: 5 Minutes (Fast)
Sell: 32 Coins
Ingredients: 2 Goat Milk
Unlocked for 480 Coins
Level: 1
Time: 4 Minutes (Slow)
Sell: 128 Coins
Ingredients: 2 Marshmallows, 3 Chocolate
Unlocked for 450 Coins
Level: 1
Time: 3 Minutes (Fast)
Sell: 65 Coins
Ingredients: 2 Briny water, 6 Cucumbers
Unlocked for 520 Coins
Level: 1
Time: 10 Minutes (Slow)
Sell: 95 Coins
Ingredients: 4 Pineapples, 2 Mackerel
Unlocked for 50 Coins
Level: 1
Time: 3 Minutes (Fast)
Sell: 12 Coins
Ingredients: 3 Raspberries
Level: 1
Time: 10 Minutes (Slow)
Sell: 72 Coins
Ingredients: 2 Chestnuts
Unlocked for 1200 Coins
Level: 1
Time: 8 Minutes (Slow)
Sell: 27 Coins
Ingredients: 2 Briny Water
Unlocked for 680 Coins
Level: 1
Time: 7 Minutes (Slow)
Sell: 48 Coins
Ingredients: 3 Kelp
Unlocked for 720 Coins
Level: 1
Time: 3 Minutes (Fast)
Sell: 40 coins
Ingredients: 2 Eggs, 2 Onions
Unlocked after researched
Level: 1
Time: 4 Minutes (Fast)
Sell: 165 coins
Ingredients: 9 Soybeans
Unlocked for 165 c
Level: 1
Time: 3 Minutes (Fast)
Sell: 28 Coins
Ingredients: 3 Sugar Cane
Unlocked for 300 Coins
Level: 1
Time: 7 Minutes (Slow)
Sell: 514 Coins
Ingredients: 2 Garlic, 3 Mushrooms, 4 Coriander, 4 Lemongrass
Unlocked for 2950 Coins
Level: 1
Time: 5 Minutes (Fast)
Sell: 164 Coins
Ingredients: 5 Vanilla Beans
Unlocked for 560 Coins
Level: 1
Time: 4 Minutes (Fast)
Sell: 171 Coins
Ingredients: 5 Horseradish Roots
Unlocked for 600 Coins
Level: 1
Time: 4 Minutes (Fast)
Sell: 85 Coins
Ingredients: 4 Wheat Grass
Unlocked for 1000 Coins
Level 1 MC Recipes
Level: 1
Time: 3 Minutes (Fast)
Sell: 85 Coins
Ingredients: 2 Cannonballs, 1 Lemon
Unlocked for 800 Coins
Level: 1
Time: 4 Minutes (Fast)
Sell: 95 Coins
Ingredients: 3 Chocolate, 3 Snow-Covered Coconuts
Unlocked for 700 Coins
Level: 1
Time: 2 Minutes (Fast)
Sell: 88 Coins
Ingredients: 2 Spun Sugar, 1 Twigs
Unlocked for 600 Coins
Level: 1
Time: 4 Minutes (Fast)
Sell: 289 Coins
Ingredients: 4 Macadamia Nuts, 6 Bread, 5 Cranberries
Unlocked for 500 Coins
Level: 1
Time: 4 Minutes (Fast)
Sell: 119 Coins
Ingredients: 3 Peppercorn
Unlocked for 500 Coins
Level: 1
Time: 3 Minutes (Fast)
Sell: 310 Coins
Ingredients: 2 Milk, 5 Chocolate, 6 Gummy Bears
Unlocked for 800 Coins
Level: 1
Time: 4 Minutes (Fast)
Sell: 254 Coins
Ingredients: 8 Raspberries, 2 Cow's Milk, 6 Orange Zap Berries
Unlocked for free
Level 2
Level: 2
Time: 7 Minutes (Slow)
Sell: 232 Coins
Ingredients: 8 Agave
Unlocked for 1600 Coins
Level: 2
Time: 5 Minutes (Fast)
Sell: 58 Coins
Ingredients: 5 Apricots
Unlocked for 450 Coins
Level: 2
Time: 4 Minutes (Fast)
Sell: 149 coins
Ingredients: 5 Potatoes, 2 Avocados, and 3 Sea Salt
Unlocked for 1600 coins
Level: 2
Time: 5 Minutes (Fast)
Sell: 230 coins
Ingredients: 2 Peaches, 3 Blueberries
Unlocked for 1200 coins
Level: 2
Time: 7 Minutes (Slow)
Sell: 360 Coins
Ingredients: 2 Onions, 3 Cheese, 4 Broccoli
Unlocked for 1900 Coins
Level: 2
Time: 4 Minutes (Fast)
Sell: 105 Coins
Ingredients: 3 Sugar
Unlocked for 1000 Coins
Level: 2
Time: 5 Minutes (Fast)
Sell: 25 Coins
Ingredients: 1 Cows Milk
Unlocked for 300 Coins
Level: 2
Time: 3 Minutes (Fast)
Sell: 60 Coins
Ingredients: 2 Chocolate
Unlocked for 200 Coins
Level: 2
Time: 8 Minutes (Slow)
Sell: 218 Coins
Ingredients: 6 Potatoes, 2 Butter and 3 Leek, 2 Cabbage
Unlocked for 2000 Coins
Level: 2
Time: 6 Minutes (Fast)
Sell: 217 coins
Ingredients: 2 Oranges, 1 Sugar, 5 Cranberries
Unlocked for 800 coins
Level: 2
Time: 3 Minutes (Fast)
Sell: 135 coins
Ingredients: 5 Coffee
Unlocked after researched
Level: 2
Time: 6 Minutes (Fast)
Sell: 226 Coins
Ingredients: 2 Eggs, 1 Flour, 1 Sea Salt
Unlocked for 1000 Coins
Level: 2
Time: 6 Minutes (Fast)
Sell: 179 Coins
Ingredients: 4 Sugar, 2 Marshmallows
Unlocked for 1300 Coins
Level: 2
Time: 7 Minutes (Slow)
Sell: 113 coins
Ingredients: 2 Eggs, 3 Corn, 4 Rice
Unlocked for 1600 coins
Level: 2
Time: 4 Minutes (Fast)
Sell: 58 coins
Ingredients: 1 Grape, 1 Cheese, 1 Honeydew Melon
Unlocked for 900 coins
Level: 2
Time: 5 Minutes (Fast)
Sell: 201 Coins
Ingredients: 2 Bread, 1 Butter, 2 Garlic
Unlocked for 1200 Coins
Level: 2
Time: 8 Minutes (Slow)
Sell: 442 Coins
Ingredients: 2 Sugar, 3 Honey, 4 Hazelnuts
Unlocked for 1650 Coins
Level: 2
Time: 7 Minutes (Slow)
Sell: 112 Coins
Ingredients: 5 Yams, 2 Pineapples, 2 Oranges
Unlocked for 1000 Coins
Level: 2
Time: 5 Minutes (Fast)
Sell: 202 Coins
Ingredients: 2 Sugar, 1 Goat Milk, 4 Jackfruit
Unlocked for 2000 Coins
Level: 2
Time: 6 Minutes (Fast)
Sell: 74 Coins
Ingredients: 3 Leek, 4 Potatoes
Unlocked for 1100 Coins
Level: 2
Time: 6 Minutes (Fast)
Sell: 158 Coins
Ingredients: 3 Asparagus, 5 Lemons
Unlocked for 1500 Coins
Level: 2
Time: 5 Minutes (Fast)
Sell: 115 coins
Ingredients: 5 Lemons, 3 Sugar
Unlocked for 600 coins
Level: 2
Time: 7 Minutes (Slow)
Sell: 48 Coins
Ingredients: 5 Raspberries, 3 Lilikoi
Unlocked for 250 Coins
Level: 2
Time: 5 Minutes (Fast)
Sell: 85 Coins
Ingredients: 2 Avocados, 4 Mangoes, 3 Papayas
Unlocked for 1300 Coins
Level: 2
Time: 6 Minutes (Fast)
Sell: 449 Coins
Ingredients: 7 Olives
Unlocked for 2400 Coins
Level: 2
Time: 8 Minutes (Slow)
Sell: 100 Coins
Ingredients: 2 Oranges, 2 Chocolate
Unlocked for 1700 Coins
Level: 2
Time: 8 Minutes (Slow)
Sell: 130 Coins
Ingredients: 4 Lemons, 3 Carrots, 1 Monkfish
Unlocked for 2100 Coins
Level: 2
Time: 7 Minutes (Slow)
Sell: 112 Coins
Ingredients: 8 Passion Fruit
Unlocked for 435 Coins
Level: 2
Time: 6 Minutes (Fast)
Sell: 180 coins
Ingredients: 2 Eggs, 1 Flour
Unlocked for 300 coins
Level: 2
Time: 6 Minutes (Fast)
Sell: 125 Coins
Ingredients: 3 Milk, 4 Pears, 8 Pawpaw Fruit
Unlocked for 1400 Coins
Level: 2
Time: 6 Minutes (Fast)
Sell: 53 Coins
Ingredients: 2 Cabbage, 2 Pomegranates, 4 Pears
Unlocked for 2200 Coins
Level: 2
Time: 5 Minutes (Fast)
Sell: 308 Coins
Ingredients: 2 Onions, 4 Coriander, 3 Tomatoes
Unlocked for 1450 Coins
Level: 2
Time: 5 Minutes (Fast)
Sell: 42 Coins
Ingredients: 4 Taro Roots
Unlocked for 350 Coins
Level: 2
Time: 4 Minutes (Fast)
Sell: 110 Coins
Ingredients: 1 Sea Urchin, 2 Lemons
Unlocked for 1300 Coins
Level: 2
Time: 5 Minutes (Fast)
Sell: 73 Coins
Ingredients: 3 Starfruit, 1 Sugar
Unlocked for 1300 Coins
Level: 2
Time: 4 Minutes (Fast)
Sell: 147 Coins
Ingredients: 4 Soybeans, 2 Sea Salt
Unlocked for 1600 Coins
Level: 2
Time: 6 Minutes (Fast)
Sell: 142 Coins
Ingredients: 3 Sugar, 3 Tamarind Pods
Unlocked for 1400 Coins
Level: 2
Time: 7 Minutes (Slow)
Sell: 366 Coins
Ingredients: 2 Soy Milk
Unlocked for 1450 Coins
Level 2 MC Recipes
Level: 2
Time: 6 Minutes (Fast)
Sell: 186 coins
Ingredients: 2 Milk, 1 Sugar and 4 Blue Pears
Unlocked for 1750 coins
Level: 2
Time: 5 Minutes (Fast)
Sell: 320 coins
Ingredients: 2 Pineapples, 5 Potatoes, and 7 Cashews
Unlocked for 2000 coins
Level: 2
Time: 5 Minutes (Fast)
Sell: 187 Coins
Ingredients: 1 Grape, 1 Cheese, 2 Goat Cheese, 2 Crackers
Unlocked for 1400 Coins
Level: 2
Time: 4 Minutes (Fast)
Sell: 162 coins
Ingredients: 1 Milk, 2 Limes, 3 Cherimoyas
Unlocked for 700 coins
Level: 2
Time: 8 Minutes (Slow)
Sell: 88 coins
Ingredients: 2 Eggs, 1 Milk, 4 Durians
Unlocked for 200 coins
Level: 2
Time: 5 Minutes (Fast)
Sell: 253 Coins
Ingredients: 2 Lemons, 2 Sugar, 3 Fireberries
Unlocked for 1800 Coins
Level: 2
Time: 5 Minutes (Fast)
Sell: 222 Coins
Ingredients: 5 Glowberries
Unlocked for 2400 Coins
Level: 2
Time: 4 Minutes (Fast)
Sell: 260 Coins
Ingredients: 5 Jujube Fruit, 3 Sugar
Unlocked for 1400 Coins
Level: 2
Time: 5 Minutes (Fast)
Sell: 334 Coins
Ingredients: 2 Sugar, 6 Popcorn
Unlocked for free
Level: 2
Time: 4 Minutes (Fast)
Sell: 221 Coins
Ingredients: 1 Ribbon, 2 Candy
Unlocked for free
Level: 2
Time: 8 Minutes (Slow)
Sell: 226 Coins
Ingredients: 2 Sea Salt, 1 Mahi Mahi, 4 Blood Oranges
Unlocked for 1800 Coins
Level: 2
Time: 3 Minutes (Fast)
Sell: 249 Coins
Ingredients: 2 Macadamia Nuts, 2 Hazelnuts, 2 Pinenuts
Unlocked for 1500 Coins
Level: 2
Time: 5 Minutes (Fast)
Sell: 220 coins
Ingredients: 5 Pink Lemons, 3 Sugar
Unlocked for 800 coins
Level: 2
Time: 3 Minutes (Fast)
Sell: 226 coins
Ingredients: 4 Razzleberries, 2 Sugar
Unlocked for 1500 coins
Level: 2
Time: 5 Minutes (Fast)
Sell: 399 coins
Ingredients: 3 Sweetleaf, 9 Chocolate, 1 Butter
Unlocked for 2200 coins
Level: 2
Time: 6 Minutes (Fast)
Sell: 278 Coins
Ingredients: 3 Celery, 2 Buffalo Wings
Unlocked for 2250 Coins

Level 3
Level: 3
Time: 7 Minutes (Slow)
Sell: 555 Coins
Ingredients: 2 Butter, 1 Pico de Gallo, 5 Mussels
Unlocked for free
Level: 3
Time: 6 Minutes (Fast)
Sell: 143 Coins
Ingredients: 1 Pear, 2 Honey, 2 Sugar
Unlocked for 1800 Coins
Level: 3
Time: 8 Minutes (Slow)
Sell: 335 Coins
Ingredients: 2 Eggplant, 3 Rice, 2 Bamboo Shoots
Unlocked for 2000 Coins
Level: 3
Time: 7 Minutes (Slow)
Sell: 236 Coins
Ingredients: 2 Bell Peppers, 3 Carrots, 5 Bilimbi Fruit
Unlocked for 1800 Coins
Level: 3
Time: 10 Minutes (Slow)
Sell: 218 Coins
Ingredients: 1 Lobster, 2 Lemons, 2 Butter
Unlocked for 3000 Coins
Level: 3
Time: 5 Minutes (Fast)
Sell: 122 Coins
Ingredients: 1 Sugar Cane, 4 Carrots
Unlocked for 850 Coins
Level: 3
Time: 10 Minutes (Slow)
Sell: 177 Coins
Ingredients: 8 Limes, 8 Onions, 6 Mackerel
Unlocked for 1000 Coins
Level: 3
Time: 3 Minutes (Fast)
Sell: 143
Ingredients: 7 Beans, 2 Peppers
Unlocked after research
Level: 3
Time: 8 Minutes (Slow)
Sell: 262 Coins
Ingredients: 3 Chocolate, 2 Hazelnuts
Unlocked for 2500 Coins
Level: 3
Time: 5 Minutes (Fast)
Sell: 137 Coins
Ingredients: 3 Strawberries, 3 Chocolate
Unlocked for 1500 Coins
Level: 3
Time: 7 Minutes (Slow)
Sell: 580 Coins
Ingredients: 1 Cows Milk, 8 Cornmeal
Unlocked for 980 Coins
Level: 3
Time: 4 Minutes (Fast)
Sell: 96 Coins
Ingredients: 1 Egg, 1 Bread, 1 Butter
Unlocked for 1400 Coins
Level: 3
Time: 9 Minutes (Slow)
Sell: 339 Coins
Ingredients: 1 Soy Sauce, 3 Rice, 1 Electric Eel
Unlocked for free
Level: 3
Time: 6 Minutes (Fast)
Sell: 395 Coins
Ingredients: 2 Eggs, 4 Figs, 2 Flour
Unlocked for 650 Coins
Level: 3
Time: 7 Minutes (Slow)
Sell: 585 Coins
Ingredients: 4 Eggs, 1 Flour, 2 Fondant
Unlocked for 1900 Coins
Level: 3
Time: 5 Minutes (Fast)
Sell: 284 Coins
Ingredients: 6 Pineapples, 5 Watermelons, 5 Apples
Unlocked for 620 Coins
Level: 3
Time: 6 Minutes (Fast)
Sell: 216 Coins
Ingredients: 4 Cow's Milk, 2 Sugar, 2 Granadilla
Unlocked for 2850 Coins
Level: 3
Time: 6 Minutes (Fast)
Sell: 172 Coins
Ingredients: 2 Halibut, 2 Lemons, 4 Persimmons
Unlocked for 1700 Coins
Level: 3
Time: 8 Minutes (Slow)
Sell: 172 Coins
Ingredients: 2 Sea Salt, 3 Lemons, 1 Monkfish
Unlocked for free
Level: 3
Time: 8 Minutes (Slow)
Sell: 700 Coins
Ingredients: 6 Tomatoes, 4 Okra, 3 Shrimp
Unlocked for 1200 Coins
Level: 3
Time: 7 Minutes (Slow)
Sell: 166 Coins
Ingredients: 5 Beans, 1 Cows Milk, 4 Yams
Unlocked for 505 Coins
Level: 3
Time: 5 Minutes (Fast)
Sell: 719 Coins
Ingredients: 1 Flour, 4 Hazelnuts, 2 Caramel
Unlocked for 2600 Coins
Level: 3
Time: 8 Minutes (Slow)
Sell: 310 Coins
Ingredients: 3 Eggs, 1 Flour, 6 Honey Locust Pod
Unlocked for 2600 Coins
Level: 3
Time: 9 Minutes (Slow)
Sell: 507 coins
Ingredients: 3 Eggs, 2 Sugar, 1 Flour, 3 Huckleberries
Unlocked for 3600 coins
Level: 3
Time: 6 Minutes (Fast)
Sell: 125 coins
Ingredients: 2 Lemons, 1 Sugar, 4 Jaboticaba Fruit
Unlocked for 1400 coins
Level: 3
Time: 9 Minutes (Slow)
Sell: 280 coins
Ingredients: 2 Mackerel, 1 Pasta
Unlocked for 400 coins
Level: 3
Time: 10 Minutes (Slow)
Sell: 292 coins
Ingredients: 3 Lemons, 2 Grumpy Face Marlin, 1 Soy Sauce
Unlocked for 2800 coins
Level: 3
Time: 8 Minutes (Slow)
Sell: 272 Coins
Ingredients: 7 Potatoes, 3 Butter, 1 Bass
Unlocked for 2800 Coins
Level: 3
Time: 4 Minutes (Fast)
Sell: 272 Coins
Ingredients: 6 Sugar, 5 Sea Salt, 1 Gator Gulp
Unlocked for 1750 Coins
Level: 3
Time: 6 Minutes (Fast)
Sell: 347 Coins
Ingredients: 3 Eggs, 1 Flour, 4 Sea Salt
Unlocked for 2500 Coins
Level: 3
Time: 8 Minutes (Slow)
Sell: 303 coins
Ingredients: 6 Corn, 2 Butter, 3 Sea Salt
Unlocked for 3200 coins
Level: 3
Time: 5 Minutes (Fast)
Sell: 222 Coins
Ingredients: 1 Lemon, 3 Rice, 2 Sea Urchin
Unlocked for 2000 Coins
Level: 3
Time: 8 Minutes (Slow)
Sell: 371 coins
Ingredients: 2 Peppers, 8 Kumquats, 2 Sugar
Unlocked for 1850 coins
Level: 3
Time: 7 Minutes (Slow)
Sell: 241 Coins
Ingredients: 2 Lemons, 6 Soybeans, 1 Butter, 1 Grouper
Unlocked for 2600 Coins
Level: 3
Time: 7 Minutes (Slow)
Sell: 244 Coins
Ingredients: 8 Corn, 7 Onions, 6 Peppers
Unlocked for 715 Coins
Level: 3
Time: 7 Minutes (Slow)
Sell: 221 Coins
Ingredients: 4 Bread, 3 Cheese, 2 Mushrooms
Unlocked for 2400 Coins
Level: 3
Time: 8 Minutes (Slow)
Sell: 362 coins
Ingredients: 2 Beans, 3 Red Cabbage, 1 Soy Sauce
Unlocked for 2200 coins
Level: 3
Time: 10 Minutes (Slow)
Sell: 547 coins
Ingredients: 4 Cabbage, 2 Tomatoes, 2 Cheese, 1 Tofu
Unlocked for 2400 coins
Level: 3
Time: 6 Minutes (Fast)
Sell: 162 coins
Ingredients: 1 Egg, 3 Truffles, 1 Bread
Unlocked for 3500 coins
Level: 3
Time: 5 Minutes (Fast)
Sell: 211 Coins
Ingredients: 2 Eggs, 1 Yellowfin Tuna, 4 Tomatoes, and 2 Cabbage
Unlocked for 1600 Coins
Level: 3
Time: 7 Minutes (Slow)
Sell: 295 coins
Ingredients: 2 Yellowfin Tuna, 3 Rice, and 4 Seaweed
Unlocked for 2800 coins
Level: 3
Time: 5 Minutes (Fast)
Sell: 407 Coins
Ingredients: 4 Carrots, 2 Cabbages, 3 Eggplants, 5 Rice, 1 Soy Sauce
Unlocked for 2000 Coins
Level: 3
Time: 10 Minutes (Slow)
Sell: 184 Coins
Ingredients: 7 Onions, 8 Carrots, 9 Cabbage
Unlocked for 520 Coins
Level 3 MC Recipes
Level: 3
Time: 6 Minutes (Fast)
Sell: 133 coins
Ingredients: 2 Lemons, 3 Aloe Leafs
Unlocked for 1800 coins
Level: 3
Time: 7 Minutes (Slow)
Sell: 394 coins
Ingredients: 5 Walnuts, 4 Star Apple Fruit, 1 Flour
Unlocked for 2500 coins
Level: 3
Time: 9 Minutes (Slow)
Sell: 212 Coins
Ingredients: 2 Sugar, 1 Butter, 1 Grapefruit
Unlocked for 2900 Coins
Level: 3
Time: 8 Minutes (Slow)
Sell: 326 Coins
Ingredients: 2 Sugar, 3 Cow's Milk, 5 Berry Twist
Unlocked for 2900 Coins
Level: 3
Time: 6 Minutes (Fast)
Sell: 452 Coins
Ingredients: 2 Butter, 3 Blizzardberries, 1 Flour
Unlocked for 2500 Coins
Level: 3
Time: 7 Minutes (Slow)
Sell: 302 coins
Ingredients: 2 Milk, 3 Sugar, 5 Blood Oranges
Unlocked for 2200 coins
Level: 3
Time: 7 Minutes (Slow)
Sell: 423 coins
Ingredients: 2 Milk, 3 Sugar, 4 Gumballs
Unlocked for 2500 coins
Level: 3
Time: 9 Minutes (Slow)
Sell: 188 coins
Ingredients: 2 Eggs, 3 Bread, 3 Squid Shells
Unlocked for 3100 coins
Level: 3
Time: 5 Minutes (Fast)
Sell: 303 Coins
Ingredients: 3 Eggs, 3 Cow's Milk, 1 Flour, 1 Candy
Unlocked for free
Level: 3
Time: 3 Minutes (Fast)
Sell: 193 Coins
Ingredients: 2 Red Licorice, 3 Candy
Unlocked for free
Level: 3
Time: 8 Minutes (Slow)
Sell: 185 coins
Ingredients: 2 Eggs, 1 Milk, 6 Cherries
Unlocked for 300 coins
Level: 3
Time: 5 Minutes (Fast)
Sell: 336 coins
Ingredients: 4 Chocolate, 1 Butter, 7 Cherries
Unlocked for 2800 coins
Level: 3
Time: 7 Minutes (Slow)
Sell: 267 coins
Ingredients: 2 Painted Coconuts, 3 Cow's Milk, 4 Sugar
Unlocked for 2700 coins
Level: 3
Time: 6 Minutes (Fast)
Sell: 975 Coins
Ingredients: 2 Garlic Bread, 2 Celery Stalks, 3 Scallions, 5 Purple Dazzle Eggs
Unlocked for free
Level: 3
Time: 6 Minutes (Fast)
Sell: 396 Coins
Ingredients: 3 Cow's Milk, 2 Sugar, 4 Dragonfly Fruit
Unlocked for 3000 Coins
Level: 3
Time: 5 Minutes (Fast)
Sell: 418 Coins
Ingredients: 2 Eggs, 1 Flour, 4 Furfle Berries
Unlocked for 2100 Coins
Level: 3
Time: 6 Minutes (Fast)
Sell: 429 Coins
Ingredients: 5 Chocolate, 2 Butter, 1 Jelly Beans
Unlocked for 2700 Coins
Level: 3
Time: 5 Minutes (Fast)
Sell: 468 Coins
Ingredients: 2 Nopales, 2 Goat Cheese, 1 Flour
Unlocked for free
Level: 3
Time: 4 Minutes (Fast)
Sell: 276 coins
Ingredients: 4 Lemons, 2 Sugar, 4 Prickly Pear Cactus
Unlocked for 1800 coins
Level: 3
Time: 5 Minutes (Fast)
Sell: 338 Coins
Ingredients: 4 Rice, 6 Marshmallows, 5 Blue Sprinkles
Unlocked for 2400 Coins
Level: 3
Time: 6 Minutes (Fast)
Sell: 230 coins
Ingredients: 3 Bananas, 3 Chocolate, 4 Rainbow Sherbet
Unlocked for 2500 coins
Level: 3
Time: 4 Minutes (Fast)
Sell: 126 Coins
Ingredients: 6 Raspberries, 3 White Scallops, 1 Cracker
Unlocked for 1900 Coins
Level: 3
Time: 7 Minutes (Slow)
Sell: 238 Coins
Ingredients: 4 Milk, 3 Potatoes, 4 Shamrocks
Unlocked for 2800 Coins
Level: 3
Time: 6 Minutes (Fast)
Sell: 237 Coins
Ingredients: 3 Goat Milk, 3 Oranges, 4 Snake Fruit
Unlocked for 2700 Coins
Level: 3
Time: 6 Minutes (Fast)
Sell: 488 Coins
Ingredients: 2 Sugar, 1 Flour, 6 Sweet Buds
Unlocked for 2900 Coins
Level: 3
Time: 5 Minutes (Fast)
Sell: 158 Coins
Ingredients: 3 Raspberries, 4 Yumberries, 4 Strawberries
Unlocked for 1900 Coins

Level 4
Level: 4
Time: 10 Minutes (Slow)
Sell: 355 coins
Ingredients: 1 Lemon, 1 Flour, 2 Sugar, 6 Apricots
Unlocked for 3150 coins
Level: 4
Time: 7 Minutes (Slow)
Sell: 182 Coins
Ingredients: 3 Goat's Milk, 3 Lemons, 1 Shrimp, 1 Monkfish
Unlocked for 4400 Coins
Level: 4
Time: 5 Minutes (Fast)
Sell: 215 Coins
Ingredients: 3 Bananas, 2 Cornmeal
Unlocked for 1570 Coins
Level: 4
Time: 6 Minutes (Fast)
Sell: 617 Coins
Ingredients: 3 Tomatoes, 2 Corn, 1 Flour, 6 Kidney Beans
Unlocked for 2550 Coins
Level: 4
Time: 15 Minutes (Slow)
Sell: 550 coins
Ingredients: 3 Eggs, 1 Milk, 1 Flour, 7 Blueberries
Unlocked for 1100 coins
Level: 4
Time: 9 Minutes (Slow)
Sell: 588 Coins
Ingredients: 3 Cornmeal, 2 Onions, 3 Cheese, 2 Blue Crabs
Unlocked for 3800 Coins
Level: 4
Time: 5 Minutes (Fast)
Sell: 197 Coins
Ingredients: 2 Peppers, 2 Avocado, 3 Cucumber, 3 Saguaro Fruit
Unlocked for 2050 Coins
Level: 4
Time: 3 Minutes (Fast)
Sell: 455
Ingredients: 4 Peppers, 3 Tomatoes, 4 Cornmeal
Unlocked after research
Level: 4
Time: 8 Minutes (Slow)
Sell: 654 coins
Ingredients: 2 Strawberries, 4 Chocolate, 3 Caramel, 1 Vanilla Extract
Unlocked for 2400 coins
Level: 4
Time: 8 Minutes (Slow)
Sell: 474 Coins
Ingredients: 4 Coconuts, 4 Cassava Roots, 1 Vanilla Extract, 1 Papaya
Unlocked for 2800 Coins
Level: 4
Time: 8 Minutes (Slow)
Sell: 220 Coins
Ingredients: 3 Coriander, 2 Limes, 1 Toothy Redtail , 3 Curry leaves and Berries
Unlocked for 3100 Coins
Level: 4
Time: 5 Minutes (Fast)
Sell: 418 Coins
Ingredients: 2 Kiwi Fruit, 6 Strawberries, 3 Sugar, 5 Curuba Fruit
Unlocked for 2900 Coins
Level: 4
Time: 7 Minutes (Slow)
Sell: 295 coins
Ingredients: 3 Cow's Milk, 2 Sugar, 4 Fairyberries
Unlocked for 2200 coins
Level: 4
Time: 9 Minutes (Slow)
Sell: 412 Coins
Ingredients: 1 Toothy Redtail, 1 Flour, 5 Potatoes, 2 Butter
Unlocked for free
Level: 4
Time: 7 Minutes (Slow)
Sell: 214 Coins
Ingredients: 4 Eggs, 3 cow's Milk, 2 Kiwi Fruit, 3 Strawberries
Unlocked for 2900 Coins
Level: 4
Time: 10 Minutes (Slow)
Sell: 547 Coins
Ingredients: 6 Eggplants, 5 Cheese
Unlocked for 1650 Coins
Level: 4
Time: 9 Minutes (Slow)
Sell: 251 Coins
Ingredients: 3 Limes, 1 Red Snapper, 3 Rice, 2 Garlic
Unlocked for 4000 Coins
Level: 4
Time: 6 Minutes (Fast)
Sell: 339 Coins
Ingredients: 1 Soy Sauce, 2 Halibut, 2 Rice, 2 Seaweed
Unlocked for 2500 Coins
Level: 4
Time: 6 Minutes (Fast)
Sell: 158 Coins
Ingredients: 3 Grapes, 4 Oranges, 4 Strawberries, 1 Honeydew Melon
Unlocked for 2400 Coins
Level: 4
Time: 7 Minutes (Slow)
Sell: 163 Coins
Ingredients: 2 Eggs, 1 Sugar, 1 Cornmeal
Unlocked for 500 Coins
Level: 4
Time: 7 Minutes (Slow)
Sell: 125 Coins
Ingredients: 3 Peppers, 4 Cabbage, 2 Mackerel
Unlocked for 1750 Coins
Level: 4
Time: 5 Minutes (Fast)
Sell: 145
Ingredients: 3 Eggs, 2 Coconuts, 1 Sugar Cane
Unlocked after research
Level: 4
Time: 6 Minutes (Fast)
Sell: 384 Coins
Ingredients: 2 Onions, 4 MangoSteen Fruit, 2 Bell Peppers, 3 Rice
Unlocked for 3400 Coins
Level: 4
Time: 9 Minutes (Slow)
Sell: 346 Coins
Ingredients: 3 Onions, 1 Flour, 5 Potatoes, 4 Curry Leaves and Berries
Unlocked for 3550 Coins
Level: 4
Time: 9 Minutes (Slow)
Sell: 354 Coins
Ingredients: 3 Rice, 3 Garlic, 2 Tomatoes, 2 Halibut
Unlocked for 3500 Coins
Level: 4
Time: 8 Minutes (Slow)
Sell: 238 Coins
Ingredients: 2 onions, 5 rice, 6 Mushrooms
Unlocked for 4000 Coins
Level: 4
Time: 15 Minutes (Slow)
Sell: 377 Coins
Ingredients: 2 Cow's Milk, 1 Flour, 4 Eggs, 2 Butter
Unlocked for 3300 Coins
Level: 4
Time: 10 Minutes (Slow)
Sell: 175 Coins
Ingredients: 2 Pineapple, 6 Yams
Unlocked for 3000 Coins
Level: 4
Time: 7 Minutes (Slow)
Sell: 506 Coins
Ingredients: 5 Tomatoes, 4 Cornmeal, 1 Cheese
Unlocked for 1550 Coins
Level: 4
Time: 10 Minutes (Slow)
Sell: 350 Coins
Ingredients: 2 Onions, 2 Peppers, 4 Radishes
Unlocked for 5000 Coins
Level: 4
Time: 8 Minutes (Slow)
Sell: 438 Coins
Ingredients: 5 Rice, 1 soy Sauce, 3 Seaweed, 2 Rainbow Trout
Unlocked for 3600 Coins
Level: 4
Time: 9 Minutes (Slow)
Sell: 277 Coins
Ingredients: 1 Lemon, 2 Peppers, 4 Tomatoes, 2 Red Snapper
Unlocked for 5400 Coins
Level: 4
Time: 10 Minutes (Slow)
Sell: 816 coins
Ingredients: 4 Sugar, 1 Flour, 1 Russet Glow Dye, 1 Vanilla Extract
Unlocked for 3000 coins
Level: 4
Time: 7 Minutes (Slow)
Sell: 528 Coins
Ingredients: 1 Soy Sauce, 4 Asparagus, 2 Oranges, 3 Garlic
Unlocked for 2600 Coins
Level: 4
Time: 6 Minutes (Fast)
Sell: 374 coins
Ingredients: 3 Limes, 2 Sea Salt, 4 Tomatoes, 2 Sea Urchin
Unlocked for 3000 coins
Level: 4
Time: 7 Minutes (Slow)
Sell: 413 Coins
Ingredients: 1 Yellowfin Tuna, 1 Pasta, 2 Garlic
Unlocked for 2700 Coins
Level: 4
Time: 8 Minutes (Slow)
Sell: 340 Coins
Ingredients: 3 Eggs, 2 Sugar, 4 Cow's Milk, 1 Flour
Unlocked for 2900 Coins
Level: 4
Time: 10 Minutes (Slow)
Sell: 746 Coins
Ingredients: 2 Cornmeal, 2 Garlic, 3 Chipotle Peppers, 6 Kidney Beans
Unlocked for 4500 Coins
Level: 4
Time: 7 Minutes (Slow)
Sell: 236 Coins
Ingredients: 3 Rice, 4 Shrimp, 2 Carrots, 3 Scallions
Unlocked for free
Level: 4
Time: 8 Minutes (Slow)
Sell: 423 Coins
Ingredients: 4 Onions, 3 Bread, 2 Cheese, 2 Blue Crab
Unlocked for 4000 Coins
Level: 4
Time: 7 Minutes (Slow)
Sell: 288 Coins
Ingredients: 3 Rice, 6 Blackberries, 4 Longan Fruit
Unlocked for 2200 Coins
Level: 4
Time: 7 Minutes (slow)
Sell: 149 Coins
Ingredients: 1 Bread, 1 Butter, 1 Teacup
Unlocked for 2400 Coins
Level: 4
Time: 10 Minutes (Slow)
Sell: 138 Coins
Ingredients: 4 Yellowfin Tuna
Unlocked for 3000 Coins

Level 4 MC Recipes
Level: 4
Time: 8 Minutes (Slow)
Sell: 301 Coins
Ingredients: 2 Squid Shells, 1 Butter, 2 Garlic
Unlocked for 3600 Coins
Level: 4
Time: 8 Minutes (Slow)
Sell: 563 Coins
Ingredients: 3 Coconuts, 2 Sugar, 1 Flour , 6 Brazil Nuts
Unlocked for 4250 Coins
Level: 4
Time: 5 Minutes (Fast)
Sell: 300 Coins
Ingredients: 3 Tomatoes, 2 Bread, 2 Garlic, 2 Basil
Unlocked for 2300 Coins
Level: 4
Time: 10 Minutes (Slow)
Sell: 799 Coins
Ingredients: 6 Tomatoes, 5 Cheese, 2 Flour, 3 Buffalo Wings
Unlocked for 5300 Coins
Level: 4
Time: 6 Minutes (Fast)
Sell: 293 Coins
Ingredients: 3 Chocolate, 5 Pistachios, 1 Puffloon
Unlocked for 2900 Coins
Level: 4
Time: 7 Minutes (Slow)
Sell: 339 Coins
Ingredients: 1 Bread, 1 Butter, 5 Conkerberry
Unlocked for 4200 Coins
Level: 4
Time: 6 Minutes (Fast)
Sell: 144 Coins
Ingredients: 2 Candy Eggs, 2 Gummy Bears, and 2 Black Cat Licorice
Unlocked for 550 Coins
Level: 4
Time: 7 Minutes (Slow)
Sell: 404 Coins
Ingredients: 1 Flour, 4 Eggs, 2 Gumballs
Unlocked for 4000 Coins
Level: 4
Time: 6 Minutes (Fast)
Sell: 351 Coins
Ingredients: 3 Sugar, 2 Butter, 4 Eggs, 3 Sweet Hearts
Unlocked for 2300 Coins
Level: 4
Time: 10 Minutes (Slow)
Sell: 461 Coins
Ingredients: 3 Honeyglow Fruit, 1 Butter, 1 Flour, 6 Raspberries
Unlocked for 5100 Coins
Level: 4
Time: 5 Minutes (Fast)
Sell: 407 Coins
Ingredients: 2 Cornmeal, 1 Strawberry, 4 Chocolate, 2 Howling Cream Pies
Unlocked for 5600 Coins
Level: 4
Time: 8 Minutes (Slow)
Sell: 210 coins
Ingredients: 2 Eggs, 1 Milk, 6 Iced Cherries
Unlocked for 500 coins
Level: 4
Time: 7 Minutes (Slow)
Sell: 494 Coins
Ingredients: 1 Flour, 3 Chocolate, 2 Butter, 3 Shamrocks
Unlocked for 3500 Coins
Level: 4
Time: 9 Minutes (Slow)
Sell: 509 Coins
Ingredients: 2 Goat Milk, 3 Sugar, 2 Jelly Beans
Unlocked for 5000 Coins
Level: 4
Time: 10 Minutes (Slow)
Sell: 442 Coins
Ingredients: 3 Eggs, 2 Sugar, 1 Flour, 5 Loquat
Unlocked for 4300 Coins
Level: 4
Time: 8 Minutes (Slow)
Sell: 410 Coins
Ingredients: 6 Macadamia Nuts, 4 Coconuts, 3 Eggs, 1 Flour
Unlocked for 4200 Coins
Level: 4
Time: 7 Minutes (Slow)
Sell: 288 Coins
Ingredients: 5 Mulberries, 3 Potatoes, 2 Onions, 2 Grumpy Face Marlin
Unlocked for 3000 Coins
Level: 4
Time: 10 Minutes (Slow)
Sell: 760 Coins
Ingredients: 4 Eggs, 1 Vanilla Extract, 1 Flour, 6 Pecans
Unlocked for 5600 Coins
Level: 4
Time: 9 Minutes (Slow)
Sell: 291 Coins
Ingredients: 2 Cow's Milk, 2 Coconuts, 4 Rice and 4 Pinkosai Fruits
Unlocked for 3700 Coins
Level: 4
Time: 8 Minutes (Slow)
Sell: 596 Coins
Ingredients: 4 Passion Fruits, 2 Goat Milk, 3 Sugar, 5 Pink Spiraling
Unlocked for free
Level: 4
Time: 4 Minutes (Fast)
Sell: 1086 Coins
Ingredients: 1 Russet Glow Dye, 1 Indigo Skies Dye, 1 Sandy Shores Dye, 4 Shaved Ice
Unlocked for free
Level: 4
Time: 4 Minutes (Fast)
Sell: 149 Coins
Ingredients: 1 Carrot, 1 Tomato, 1 Twigs
Unlocked for 2000 Coins
Level: 4
Time: 9 Minutes (Slow)
Sell: 283 coins
Ingredients: 1 Goat Milk, 3 Peppers, 2 Calabash, 2 Sapotes
Unlocked for 4900 coins
Level: 4
Time: 3 Minutes (Fast)
Sell: 206 Coins
Ingredients: 7 Raspberries, 2 Cow's Milk, 4 Shipova Fruit
Unlocked for free
Level: 4
Time: 6 Minutes (Fast)
Sell: 543 Coins
Ingredients: 3 Sugar, 4 Cassava Root, 5 Soursop Fruit
Unlocked for 3000 Coins
Level: 4
Time: 9 Minutes (Slow)
Sell: 453 coins
Ingredients: 1 Flour, 6 Strawberries, 2 Eggs, 8 Sprinkles
Unlocked for 5000 coins
Level: 4
Time: 8 Minutes (Slow)
Sell: 245 Coins
Ingredients: 3 Eggs, 2 Cow's Milk, 2 Sugar, 4 Tangarello
Unlocked for 3400 Coins
Level: 4
Time: 5 Minutes (Fast)
Sell: 280 Coins
Ingredients: 2 Milk, 4 Chocolate, 2 Thunderberries
Unlocked for 5000 Coins
Level: 4
Time: 4 Minutes (Fast)
Sell: 259 Coins
Ingredients: 5 Raspberries, 3 Passion Fruit, 2 Cow's Milk, 4 Shaved Ice
Unlocked for free
Level: 4
Time: 7 Minutes (Slow)
Sell: 254 Coins
Ingredients: 1 Pummelo Fruit, 4 Tomatoes, 2 Cabbage, 2 Grouper
Unlocked for 2400 Coins
Level: 4
Time: 6 Minutes (Fast)
Sell: 435 Coins
Ingredients: 3 Onions, 6 Carrots, 2 Butter, 4 Vines
Unlocked for 3000 Coins

Level 5
Level: 5
Time: 13 Minutes (Slow)
Sell: 564 Coins
Ingredients: 5 Tomatoes, 4 Cheese, 1 Flour, 3 Anchovy
Unlocked for 7900 Coins
Level: 5
Time: 14 Minutes (Slow)
Sell: 989 Coins
Ingredients: 3 Sea Salt, 1 Olive Oil, 1 Angler Fish, 1 Mango Papaya Salsa
Unlocked for free
Level: 5
Time: 13 Minutes (Slow)
Sell: 1129 Coins
Ingredients: 5 Rice, 3 Seaweed, 2 Salmon, 4 Wasabi
Unlocked for 7800 Coins
Level: 5
Time: 10 Minutes (Slow)
Sell: 282 Coins
Ingredients: 3 Lemons, 2 Pineapples, 4 Peppers, 1 Salmon
Unlocked for 6250 Coins
Level: 5
Time: 12 Minutes (Slow)
Sell: 350 Coins
Ingredients: 2 Goat Milk, 4 Strawberries, 3 Sugar, 5 Baobab Fruit
Unlocked for 6300 Coins
Level: 5
Time: 13 Minutes (Slow)
Sell: 445 Coins
Ingredients: 1 Lemon, 2 Blackberries, 2 Sugar, 1 Flour
Unlocked for 6000 Coins
Level: 5
Time: 14 Minutes (Slow)
Sell: 561 Coins
Ingredients: 4 Tomatoes, 2 Garlic, 1 Bony Fish, 3 Chipotle Peppers
Unlocked for 8850 Coins
Level: 5
Time: 13 Minutes (Slow)
Sell: 414 Coins
Ingredients: 2 Lobster, 4 White Scallops, 5 Tomatoes, 1 Pineapple
Unlocked for 7550 Coins
Level: 5
Time: 13 Minutes (Slow)
Sell: 425 Coins
Ingredients: 2 Onions, 4 Peppers, 4 Shrimp, 4 Kukui Nuts
Unlocked for 6350 Coins
Level: 5
Time: 10 Minutes (Slow)
Sell: 1034 Coins
Ingredients: 3 Chocolate Bunny, 4 Strawberries, 4 Chocolate covered Strawberries, 4 Lollipops
Unlocked for 6300 Coins
Level: 5
Time: 11 Minutes (Slow)
Sell: 746 Coins
Ingredients: 3 Cheese, 3 Goat Cheese, 4 Garlic, 1 Elbow Pasta
Unlocked for 5650 Coins
Level: 5
Time: 14 Minutes (Slow)
Sell: 487 Coins
Ingredients: 2 Onions, 3 Corn, 4 Bread, 2 Blue Crabs
Unlocked for 9100 Coins
Level: 5
Time: 12 Minutes (Slow)
Sell: 495 Coins
Ingredients: 2 Eggs, 2 Bread, 3 Potatoes, 4 Scallions, 2 Diplomystos
Unlocked for 7850 Coins
Level: 5
Time: 15 Minutes (Slow)
Sell: 527 Coins
Ingredients: 2 Cornmeal, 6 Coriander, 4 Onions, and 2 Ruby Veiltails
Unlocked for 8750 Coins
Level: 5
Time: 11 Minutes (Slow)
Sell: 1120 Coins
Ingredients: 6 Coriander, 3 Tomatoes, 4 Bread, 2 Tofu
Unlocked for 6000 Coins
Level: 5
Time: 15 Minutes (Slow)
Sell: 1056 Coins
Ingredients: 4 Rice, 1 Soy Sauce, 2 Pufferfish, 3 Wasabi
Unlocked for 10000 Coins
Level: 5
Time: 12 Minutes (Slow)
Sell: 204 coins
Ingredients: 3 Lemons, 1 Cabbage, 2 Tomatoes, 1 Grumpy Faced Marlin
Unlocked for 7000 coins
Level: 5
Time: 12 Minutes (Slow)
Sell: 512 Coins
Ingredients: 1 Vanilla Extract, 2 Goat's Milk, 4 Chocolate, 6 Barley Pops
Unlocked for 7400 Coins
Level: 5 Time: 13 Minutes (Slow)
Sell: 470 Coins
Ingredients: 3 Cow's Milk, 1 Flour, 1 Butter, 6 Key Limes
Unlocked for 6850 Coins
Level: 5
Time: 9 Minutes (Slow)
Sell: 353 Coins
Ingredients: 3 Oranges, 2 Bananas, 1 Sugar, 6 Sweet Potatoes
Unlocked for 6500 Coins
Level: 5
Time: 12 Minutes (Slow)
Sell: 224 Coins
Ingredients: 2 Eggs, 3 Lemons, 4 Bread, 1 Monkfish
Unlocked for 7050 Coins
Level: 5
Time: 13 Minutes (Slow)
Sell: 375 coins
Ingredients: 4 Passion Fruits, 4 Oranges, 4 Mangoes, 2 Love Potion
Unlocked for 6250 coins
Level: 5
Time: 15 Minutes (Slow)
Sell: 633 Coins
Ingredients: 3 Oranges, 2 Lemons, 8 Peaches, 1 Flour, 2 Butter
Unlocked for 9000 Coins
Level: 5
Time: 12 Minutes (Slow)
Sell: 501 Coins
Ingredients: 1 Butter, 2 Sugar, 1 Flour, 5 Peaches
Unlocked for 6600 Coins
Level: 5
Time: 13 Minutes (Slow)
Sell: 387 Coins
Ingredients: 5 Eggs, 2 Pumpkins, 2 Sugar, 1 Flour
Unlocked for 6000 Coins
Level: 5
Time: 12 Minutes (Slow)
Sell: 1066 Coins
Ingredients: 4 Rice, 1 Soy Sauce, 2 Electric Eel, 3 Wasabi
Unlocked for 8500 Coins
Level: 5
Time: 13 Minutes (Slow)
Sell: 435 Coins
Ingredients: 5 Carrots, 2 Toothy Redtail, 2 Bread, 3 Broccoli
Unlocked for 8000 Coins
Level: 5
Time: 15 Minutes (Slow)
Sell: 975 Coins
Ingredients: 4 Radishes, 1 Pasta, 2 Sea Urchins, 5 Broccoli
Unlocked for 9500 Coins
Level: 5
Time: 15 Minutes (Slow)
Sell: 400 coins
Ingredients: 2 Limes, 3 Tomatoes, 8 Shrimp, 4 Corn
Unlocked for 10000 coins
Level: 5
Time: 15 Minutes (Slow)
Sell: 379 Coins
Ingredients: 2 Onions, 3 Carrots, 5 Squash, 4 Potatoes
Unlocked for 6750 Coins
Level: 5
Time: 13 Minutes (Slow)
Sell: 955 Coins
Ingredients: 2 Pasta, 4 Tomatoes, 5 Swiss Chard, 3 Goat Cheese
Unlocked for 7500 Coins
Level: 5
Time: 15 Minutes (Slow)
Sell: 780 Coins
Ingredients: 2 Garlic, 1 Flour, 3 Swiss Chard, 2 Artichokes
Unlocked for 8850 Coins
Level: 5
Time: 10 Minutes (Slow)
Sell: 644 Coins
Ingredients: 1 Russet Glow Dye, 1 Indigo Skies Dye, 1 Sandy Shores Dye, 4 Shaved Ice
Unlocked for 6250 Coins
Level: 5
Time: 12 Minutes (Slow)
Sell: 361 Coins
Ingredients: 2 Bread, 2 Shrimp, 3 Rice, 3 Seaweed
Unlocked for 7800 Coins
Level: 5
Time: 15 Minutes (Slow)
Sell: 1088 Coins
Ingredients: 2 Red Snapper, 5 Rice, 3 Seaweed, 4 Wasabi
Unlocked for 9950 Coins
Level: 5
Time: 15 Minutes (Slow)
Sell: 1659 coins
Ingredients: 8 Eggs, 2 Flour, 4 Butter, 5 Fondant
Unlocked for 10000 coins

Level 5 MC Recipes
Level: 5
Time: 14 Minutes (Slow)
Sell: 497 Coins
Ingredients: 2 Goat Milk, 5 Oranges, 3 Mangoes, 7 Acai Berries
Unlocked for 8500 Coins
Level: 5
Time: 15 Minutes (Slow)
Sell: 627 Coins
Ingredients: 2 Yellowfin Tuna, 3 Sea Salt, 3 Ground Pepper
Unlocked for 8750 Coins
Level: 5
Time: 13 Minutes (Slow)
Sell: 468 Coins
Ingredients: 2 Garlic, 4 Peppers, 7 Fire Ants, 3 Tomatoes
Unlocked for 8300 Coins
Level: 5
Time: 10 Minutes (Slow)
Sell: 647 Coins
Ingredients: 3 Cow's Milk, 3 Chocolate, 2 Sugar, 1 Vanilla Extract, 3 Animal Crackers
Unlocked for free
Level: 5
Time: 11 Minutes (Slow)
Sell: 282 Coins
Ingredients: 1 Orange, 1 Lemon, 6 Apples, 1 Maple Syrup
Unlocked for 6250 Coins
Level: 5
Time: 12 Minutes (Slow)
Sell: 661 Coins
Ingredients: 3 Eggs, 2 Sugar, 1 Flour, 4 Dark Cacao Bean, 1 Black Pearl
Unlocked for free
Level: 5
Time: 13 Minutes (Slow)
Sell: 672 Coins
Ingredients: 6 Blizzardberries, 4 Eggs, 2 Butter, 1 Flour
Unlocked for 9000 Coins
Level: 5
Time: 10 Minutes (Slow)
Sell: 602 Coins
Ingredients: 3 Blizzardberries, 2 Honey, 4 Hazelnuts, 2 Bread
Unlocked for 6750 Coins
Level: 5
Time: 14 Minutes (Slow)
Sell: 751 Coins
Ingredients: 2 Flour, 3 Sugar, 4 Eggs, 5 Blood Oranges
Unlocked for 8450 Coins
Level: 5
Time: 11 Minutes (Slow)
Sell: 408 Coins
Ingredients: 3 Bread, 3 Goat Cheese, 5 Tomatoes, 2 Basil
Unlocked for 7350 Coins
Level: 5
Time: 12 Minutes (Slow)
Sell: 398 Coins
Ingredients: 2 Cassowary Eggs, 2 Garlic, 4 Carrots, 3 Cabbage
Unlocked for 6750 Coins
Level: 5
Time: 13 Minutes (Slow)
Sell: 387 Coins
Ingredients: 5 Peppers, 2 Cassowary Eggs, 2 Garlic, 4 Onions
Unlocked for 8750 Coins
Level: 5
Time: 13 Minutes (Slow)
Sell: 631 Coins
Ingredients: 4 Chocolate, 3 Sugar, 1 Flour, 4 Sapote
Unlocked for 8150 Coins
Level: 5
Time: 13 Minutes (Slow)
Sell: 598 Coins
Ingredients: 3 Sugar, 5 Eggs, 1 Flour, 4 Cinnamon Bark
Unlocked for 9250 Coins
Level: 5
Time: 11 Minutes (Slow)
Sell: 360 Coins
Ingredients: 1 Raspberry, 3 Chocolate, 2 Sugar, 3 Sweet Hearts
Unlocked for 6000 Coins
Level: 5
Time: 13 Minutes (Slow)
Sell: 549 Coins
Ingredients: 3 Eggs, 3 Fireberries, 2 Sugar, 1 Flour
Unlocked for 8350 Coins
Level: 5
Time: 11 Minutes (Slow)
Sell: 492 Coins
Ingredients: 2 Milk, 1 Cup of Coffee, 3 Chocolate, 8 Ice Cubes
Unlocked for 7250 Coins
Level: 5
Time: 13 Minutes (Slow)
Sell: 417 coins
Ingredients: 3 Eggs, 2 Lemons, 1 Flour , 4 Lightningberries
Unlocked for 8000 coins
Level: 5
Time: 10 Minutes (Slow)
Sell: 331 Coins
Ingredients: 1 Coconut, 4 Bread, 2 Sugar, 6 Lychees
Unlocked for 6000 Coins
Level: 5
Time: 12 Minutes (Slow)
Sell: 485 Coins
Ingredients: 4 Macadamia Nuts, 2 Mahi Mahi, 1 Flour, 2 Butter
Unlocked for 6200 Coins
Level: 5
Time: 11 Minutes (Slow)
Sell: 812 Coins
Ingredients: 3 Bananas, 2 Chocolate, 1 Flour, 1 Vanilla Extract, 5 Marula Fruit
Unlocked for free
Level: 1
Time: 13 Minutes (Slow)
Sell: 811 Coins
Ingredients: 4 cheese, 2 Garlic, 1 Elbow Pasta, 3 Meatballs
Unlocked for 8600 Coins
Level: 5
Time: 15 Minutes (Slow)
Sell: 652 Coins
Ingredients: 3 Sugar, 1 Flour, 4 Chocolate, and 3 Honeyglow Fruit
Unlocked for 9550 Coins
Level: 5
Time: 14 Minutes (Slow)
Sell: 876 Coins
Ingredients: 4 Chocolate, 3 Sugar, 1 Flour, 3 Pearls
Unlocked for 8900 Coins
Level: 5
Time: 14 Minutes (Slow)
Sell: 511 Coins
Ingredients: 3 Goose Eggs, 2 Cheese, 2 Flour, 1 Butter
Unlocked for 7000 Coins
Level: 5
Time: 15 Minutes (Slow)
Sell: 483 Coins
Ingredients: 3 Eggs, 4 Cow's Milk, 1 Flour, 4 Rainbow Sherbet
Unlocked for 9400 Coins
Level: 5
Time: 11 Minutes (Slow)
Sell: 553 Coins
Ingredients: 1 Butter, 3 Candied Eggs, 1 Flour, 2 Sugar
Unlocked for free
Level: 5
Time: 11 Minutes (Slow)
Sell: 712 Coins
Ingredients: 3 Onions, 5 Tomatoes, 2 Coriander, 4 Nopales
Unlocked for 7250 Coins
Level: 5
Time: 14 Minutes (Slow)
Sell: 596 Coins
Ingredients: 4 Eggs, 5 Spun Sugar, 2 Butter, 1 Flour
Unlocked for 8200 Coins
Level: 5
Time: 13 Minutes (Slow)
Sell: 604 Coins
Ingredients: 2 Butter, 6 Sweet Potatoes, 2 Nutmeg, 1 Vanilla Extract
Unlocked for 7300 Coins
Level: 5
Time: 11 Minutes (Slow)
Sell: 333 Coins
Ingredients: 4 Lemons, 5 Strawberries, 2 Sugar, 3 Thunderberries
Unlocked for 6900 Coins
Level: 5
Time: 12 Minutes (Slow)
Sell: 302 Coins
Ingredients: 2 Goat Milk, 2 Bananas, 4 Strawberries, 4 Yumberries
Unlocked for 7800 Coins