Jurassic World: Dominion Dominates Fandom Wikis - The Loop
Play Sound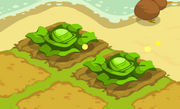 Excellent crops were introduced on March 4, 2010 to the game. Players that are level 5 and above can level up their crops and get more coins. Harvesting excellent crops will not give you more experience. You can check on your own progress by opening the Shop and hovering your cursor over the stars.
Crops are added to the total when you harvest them, not when you seed. They are counted by plots. That means that you may harvest anywhere from 4-8 Passion Fruit (if your neighbors have been by for a visit) off one passion fruit plant, but that will count as 1 plot. This rule applies to all crops.
Neighbors that visit your island will not see the sparkles rising from your crops. If they do steal from an excellent crop, it will not affect the bonus you get. They will still give the same coin bonus.
Amount to gain each star
[
]
Amounts to obtain the stars are cumulative. So for example, if you had harvested the 150 Raspberry Bushes necessary to gain the first star, you will have harvested 150 of the 450 necessary for the second star and so on.
Coin Bonus refers the additional amount of coins players obtain when they harvest an excellent crop. These bonuses are automatically added to the player's coin balance when the crop is harvested. The amount of bonus coins for each crop is based on the profit. For example including planting and plowing costs Raspberry would be 30-10-10=10 profit which is the same as the bonus you get for an excellent crop. For more on profits see Crops.
Rewards
[
]
Upgrading your crops will give you a chance of having your crops sparkle. They are called excellent crops. Players will randomly get a chance to harvest a crop that will give them more coins and an additional reward(See below for more info on Additional Rewards). Having a Well gives you an additional 25% chance of having excellent crops and having a Lucky Totem gives you an additional 50% chance of having excellent crops.
Additional Rewards for Crop Stars were added on November 18, 2010. Once a reward is earned it will be rewarded each time you cook the recipe again and not just once. The reward for the first crop star is Harvest Amount +2. This will add 2 additional of that crop which also increase the harvest price. For example when you harvest Honeydew you will 8 Honeydew Melon instead of the normal 6 Honeydew Melon; also the harvest price will be 24 c instead of the normal 18 c.. The second crop star gives you two additional xp when you harvest the crop. The third crop star will reduce the harvest time by 8%. The rewards are cumulative meaning once you get the second star you will get the additional XP and the additional harvest and when you get the third star you will get all three rewards when you harvest that crop again.
There is also a one time bonus players receive when they gain a new star and that they can share with their neighbors via the feed at no cost to themselves. There is no additional bonus or prize for completing all the crops' upgrades, only the ones given for completing each crop upgrade. The one time bonus chart is displayed below:
| Star | You get... | Your neighbors get... | Chance of getting excellent crops | Additional Rewards |
| --- | --- | --- | --- | --- |
| First star | 100c | 50c | 10% | Harvest Amount +2 |
| Second star | 250c | 100c | 20% | XP Given +2 |
| Third star | 1000c | 250c | 30% | Growth Time -8% |
Profit with Bonus Stars
[
]
The following charts reflect the normal profit versus the profit. There are columns with the profit with the first bonus star and another column with the profit with the third bonus star. The profits are different since there is a reduced growth time after the third bonus star.
Note: Profit is measured in cph, or coins per hour. That is determined by the formula:
Permanent Crops
[
]
| Image | Crop name | Level | Time | Plant Price | Normal Harvest | Normal Profit | Bonus Star Harvest | 1st Bonus Star Profit | 3rd Bonus Star Time | 3rd Bonus Star Profit |
| --- | --- | --- | --- | --- | --- | --- | --- | --- | --- | --- |
| | Beets | 1 | 5 m | 4 | 18 | 48 cph | 30 | 192 cph | 4m | 240 cph |
| | Cantaloupe | 1 | 3 m | 2 | 15 | 60 cph | 45 | 660 cph | 2m | 990 cph |
| | Honeydew Melon | 1 | 15 m | 6 | 18 | 8 cph | 24 | 32 cph | 13m | 36.92 cph |
| | Potatoes | 5 | 30 m | 23 | 36 | 6 cph | 48 | 30 cph | 27m | 33.33 cph |
| | Cucumber | 2 | 1 h | 27 | 42 | 5 cph | 56 | 19 cph | 55 m | 20.65 cph |
| | Rice | 11 | 2 h | 35 | 54 | 4.50 cph | 72 | 13.5 cph | 1h 50m | 14.73 cph |
| | Lily of the Valley | 14 | 2 h | 120 | 138 | 4.00 cph | 230 | 50.0 cph | 1h 50m | 54.35 cph |
| | Leek | 4 | 3 h | 27 | 48 | 3.67 cph | 64 | 9.00 cph | 2h 46m | 9.78 cph |
| | Goldenrod | 13 | 3 h | 136 | 156 | 3.33 cph | 234 | 29.33 cph | 2h 46m | 31.88 cph |
| | | Any | 4 h | 40 | 64 | 3.5 cph | 80 | 7.5 cph | 3h 40m | 8.18 cph |
| | Raspberry Bush | 2 | 4 h | 10 | 30 | 2.50 cph | 36 | 4 cph | 3h 40m | 4.36 cph |
| | Taro Root | 14 | 4 h | 60 | 81 | 2.75 cph | 99 | 7.25 cph | 3h 40m | 7.91 cph |
| | Huckleberry | 15 | 4 h | 150 | 172 | 3.00 cph | 258 | 24.5 cph | 3h 40m | 26.63 cph |
| | Camellia | 18 | 4 h | 158 | 180 | 3.00 cph | 252 | 21.00 cph | 3h 40m | 22.83 cph |
| | Edible Mushrooms | 23 | 4 h | 92 | 116 | 3.5 cph | 174 | 18 cph | 3h 40m | 19.64 cph |
| | Blue Huckleberry | 75 | 4 h | 210 | 240 | 5.00 cph | 320 | 25.0 cph | 3h 40m | 27.17 cph |
| | Indigo | 12 | 5 h | 164 | 188 | 2.80 cph | 282 | 21.6 cph | 4h 36m | 23.48 cph |
| | Yucca | 1 | 6 h | 48 | 78 | 3.33 cph | 130 | 12.0 cph | 5h 31m | 13.04 cph |
| | Yams | 8 | 6 h | 55 | 81 | 2.67 cph | 99 | 5.67 cph | 5h 31m | 6.16 cph |
| | Strawberries | 15 | 6 h | 63 | 90 | 2.83 cph | 110 | 6.17 cph | 5h 31m | 6.71 cph |
| | Jute | 16 | 6 h | 179 | 205 | 2.67 cph | 287 | 16.33 cph | 5h 31m | 17.75 cph |
| | Agave | 20 | 6 h | 68 | 96 | 4.50 cph | 144 | 11.00 cph | 5h 31m | 11.96 cph |
| | Scallions | 24 | 6 h | 106 | 136 | 3.33 cph | 204 | 14.67 cph | 5h 31m | 15.94 cph |
| | Sweet Potato | 29 | 6 h | 151 | 182 | 3.50 cph | 234 | 12.17 cph | 5h 31m | 13.23 cph |
| | Daikon | 35 | 6 h | 170 | 203 | 3.83 cph | 261 | 13.5 cph | 5h 31m | 14.68 cph |
| | | 55 | 6 h | 190 | 225 | 4.17 cph | 315 | 19.17 cph | 5h 31m | 20.85 cph |
| | Sumac | 11 | 7 h | 192 | 220 | 2.57 cph | 308 | 15.14 cph | 6h 26m | 16.46 cph |
| | Soybeans | Any | 8 h | 45 | 85 | 3.75 cph | 119 | 8 cph | 7h 21m | 8.71 cph |
| | Onions | 4 | 8 h | 30 | 50 | 1.25 cph | 60 | 2.5 cph | 7h 21m | 2.72 cph |
| | Passion Fruit | 16 | 8 h | 75 | 108 | 2.88 cph | 126 | 5.13 cph | 7h 21m | 5.58 cph |
| | Flax | 17 | 8 h | 210 | 240 | 2.50 cph | 320 | 12.5 cph | 7h 21m | 13.59 cph |
| | Tomatoes | 25 | 8 h | 120 | 156 | 3.25 cph | 208 | 9.75 cph | 7h 21m | 10.61 cph |
| | Yellow Tomatoes | 53 | 8 h | 192 | 235 | 4.13 cph | 329 | 15.88 cph | 7h 21m | 17.26 cph |
| | Voodoo Lily | 90 | 8 h | 229 | 275 | 4.5 cph | 385 | 18.25 cph | 7h 21m | 19.84 cph |
| | Marshmallow Plant | 30 | 9 h | 167 | 207 | 3.33 cph | 253 | 8.44 cph | 8h 17m | 9.18 cph |
| | Horned Melon | 80 | 9 h | 230 | 280 | 4.44 cph | 392 | 16.89 cph | 8h 17m | 18.36 cph |
| | Brussel Sprouts | 5 | 10 h | 42 | 75 | 2.30 cph | 105 | 5.3 cph | 9h 12m | 5.76 cph |
| | Carrots | 18 | 10 h | 85 | 120 | 2.50 cph | 140 | 4.5 cph | 9h 12m | 4.89 cph |
| | Kumquat | 41 | 10 h | 192 | 240 | 3.80 cph | 300 | 9.8 cph | 9h 12m | 10.65 cph |
| | Artichokes | 58 | 10 h | 211 | 261 | 4.00 cph | 435 | 21.4 cph | 9h 12m | 23.26 cph |
| | Scotch Bonnet | 70 | 10 h | 240 | 280 | 3.00 cph | 392 | 14.20 cph | 9h 12m | 15.43 cph |
| | Cabbage | 2 | 12 h | 22 | 50 | 1.50 cph | 60 | 2.33 cph | 11h 2m | 2.54 cph |
| | Greenery | | 12 h | 29 | 60 | 1.92 cph | 120 | 6.75 cph | 11h 2m | 7.34 cph |
| | Grape Vine | 10 | 12 h | 65 | 100 | 2.08 cph | 120 | 3.75 cph | 11h 2m | 4.08 cph |
| | Eggplant | 27 | 12 h | 165 | 212 | 3.08 cph | 318 | 11.92 cph | 11h 2m | 12.96 cph |
| | Ginger | 36 | 12 h | 177 | 231 | 3.67 cph | 385 | 16.5 cph | 11h 2m | 17.93 cph |
| | Anise | 43 | 12 h | 192 | 248 | 3.83 cph | 372 | 14.17 cph | 11h 2m | 15.4 cph |
| | Asparagus | 50 | 12 h | 199 | 256 | 4.00 cph | 320 | 9.25 cph | 11h 2m | 10.06 cph |
| | Celeriac | 5? | 12 h | 211 | 270 | 4.08 cph | 330 | 9.08 cph | 11h 2m | 9.84 cph |
| | Watermelon Radish | 61 | 12 h | 226 | 285 | 4.08 cph | 475 | 19.92 cph | 11h 2m | 21.65 cph |
| | Mephiticus | 88 | 12 h | 240 | 301 | 4.25 cph | 387 | 11.42 cph | 11h 2m | 12.41 cph |
| | Celery | 22 | 13 h | 134 | 180 | 2.77 cph | 300 | 12.0 cph | 11h 58m | 13.04 cph |
| | Bean Sprout Plant | 7 | 14 h | 65 | 102 | 1.93 cph | 136 | 4.36 cph | 12h 53m | 4.74 cph |
| | Lemongrass | 26 | 14 h | 173 | 224 | 2.93 cph | 288 | 7.50 cph | 12h 53m | 8.15 cph |
| | Chipotle Pepper | 34 | 14 h | 176 | 238 | 3.71 cph | 306 | 8.57 cph | 12h 53m | 9.32 cph |
| | Thai Basil | 68 | 14 h | 220 | 287 | 4.07 cph | 369 | 9.93 cph | 12h 53m | 10.79 cph |
| | Bell Peppers | 54 | 15 h | 208 | 276 | 3.87 cph | 368 | 10.0 cph | 13h 48m | 10.87 cph |
| | Okra | 44 | 16 h | 196 | 266 | 3.75 cph | 342 | 8.50 cph | 14h 43m | 9.24 cph |
| | Kidney Beans | 60 | 16 h | 222 | 294 | 3.88 cph | 392 | 10.0 cph | 14h 43m | 10.87 cph |
| | Cotton | 16 | 17 h | 243 | 294 | 2.50 cph | 392 | 8.18 cph | 15h 38m | 8.89 cph |
| | Coriander | 19 | 18 h | 105 | 162 | 2.61 cph | 216 | 5.61 cph | 16h 33m | 6.10 cph |
| | Blackberries | 31 | 18 h | 180 | 250 | 3.33 cph | 300 | 6.11 cph | 16h 33m | 6.65 cph |
| | Kale | 39 | 18 h | 187 | 261 | 3.56 cph | 435 | 13.22 cph | 16h 33m | 14.37 cph |
| | Kohlrabi | 65 | 20 h | 237 | 325 | 3.90 cph | 455 | 10.4 cph | 18h 24m | 11.30 cph |
| | Bean Plant | 2 | 24 h | 15 | 60 | 1.25 cph | 80 | 2.29 cph | 22h 4m | 2.49 cph |
| | Baby's Breath | | 24 h | 38 | 92 | 1.83 cph | 184 | 5.67 cph | 22h 4m | 6.16 cph |
| | Black Tea Leaves | 5 | 24 h | 32 | 80 | 1.58 cph | 100 | 2.42 cph | 22h 4m | 2.63 cph |
| | Bamboo | 9 | 24 h | 70 | 110 | 1.25 cph | 154 | 3.08 cph | 22h 4m | 3.35 cph |
| | Peanuts | | 24 h | 80 | 120 | 1.25 cph | 150 | 2.50 cph | 22h 4m | 2.72 cph |
| | Rye | 17 | 24 h | 86 | 136 | 1.67 cph | 170 | 3.08 cph | 22h 4m | 3.35 cph |
| | Peppers | 21 | 24 h | 100 | 160 | 2.08 cph | 192 | 3.42 cph | 22h 4m | 3.72 cph |
| | Bitty Beechwood | 22 | 24 h | 150 | 212 | 2.17 cph | 318 | 6.58 cph | 22h 4m | 7.16 cph |
| | Vanilla Plant | 28 | 24 h | 190 | 270 | 2.92 cph | 330 | 5.42 cph | 22h 4m | 5.89 cph |
| | Savory | 33 | 24 h | 192 | 280 | 3.25 cph | 350 | 6.17 cph | 22h 4m | 6.70 cph |
| | Dill | 3? | 24 h | 184 | 276 | 3.42 cph | 368 | 7.25 cph | 22h 4m | 7.88 cph |
| | Red Cabbage | 38 | 24 h | 185 | 282 | 3.63 cph | 376 | 7.54 cph | 22h 4m | 8.20 cph |
| | Jamaican Blue Mountain Coffee | 42 | 24 h | 178 | 275 | 3.63 cph | 385 | 8.21 cph | 22h 4m | 8.92 cph |
| | Green Lentils | 47 | 24 h | 194 | 294 | 3.75 cph | 336 | 5.50 cph | 22h 4m | 5.98 cph |
| | Lavender | 52 | 24 h | 190 | 306 | 4.42 cph | 374 | 7.25 cph | 22h 4m | 7.89 cph |
| | Blackcurrant | 5? | 24 h | 228 | 335 | 4.04 cph | 469 | 9.63 cph | 22h 4m | 10.46 cph |
| | Corn Stalk | 3 | 48 h | 35 | 99 | 1.13 cph | 117 | 1.5 cph | 1d 20h | 1.64 cph |
| | Thyme | 6 | 48 h | 46 | 128 | 1.50 cph | 192 | 2.83 cph | 1d 20h | 3.09 cph |
| | Wheat | 7 | 48 h | 80 | 160 | 1.46 cph | 240 | 3.13 cph | 1d 20h | 3.41 cph |
| | White Aster | 8 | 48 h | 92 | 175 | 1.52 cph | 245 | 2.98 cph | 1d 20h | 3.25 cph |
| | Horseradish | 13 | 48 h | 127 | 217 | 1.67 cph | 279 | 2.96 cph | 1d 20h | 3.23 cph |
| | Fennel | 18 | 48 h | 134 | 228 | 1.75 cph | 304 | 3.33 cph | 1d 20h | 3.64 cph |
| | Sorghum | 21 | 48 h | 137 | 234 | 1.81 cph | 286 | 2.90 cph | 1d 20h | 3.16 cph |
| | Watermelon Plant | 24 | 48 h | 140 | 240 | 1.88 cph | 288 | 2.88 cph | 1d 20h | 3.14 cph |
| | Baby Ash | 26 | 48 h | 152 | 255 | 1.94 cph | 425 | 5.48 cph | 1d 20h | 5.98 cph |
| | Cauliflower | 28 | 48 h | 169 | 291 | 2.33 cph | 485 | 6.38 cph | 1d 20h | 6.95 cph |
| | Rattan | 30 | 48 h | 154 | 280 | 2.42 cph | 420 | 5.33 cph | 1d 20h | 5.82 cph |
| | Hickory | 32 | 48 h | 198 | 342 | 2.79 cph | 456 | 5.04 cph | 1d 20h | 5.64 cph |
| | Cassava | 32 | 48 h | 161 | 295 | 2.58 cph | 413 | 5.17 cph | 1d 20h | 5.50 cph |
| | Golden Straw | 37 | 48 h | 199 | 368 | 3.31 cph | 460 | 5.23 cph | 1d 20h | 5.70 cph |
| | Sesame Seed | 40 | 48 h | 202 | 378 | 3.46 cph | 504 | 608 cph | 1d 20h | 6.64 cph |
| | Broccoli | 46 | 48 h | 209 | 399 | 3.75 cph | 513 | 6.13 cph | 1d 20h | 6.68 cph |
| | Rhubarb | 4? | 48 h | 216 | 410 | 3.83 cph | 574 | 7.25 cph | 1d 20h | 7.91 cph |
| | Barley | 63 | 48 h | 250 | 448 | 3.92 cph | 672 | 8.58 cph | 1d 20h | 9.36 cph |
| | Ginseng | 83 | 48 h | 260 | 462 | 4.00 cph | 594 | 6.75 cph | 1d 20h | 7.36 cph |
| | Coffee Bush | 12 | 60 h | 95 | 200 | 1.58 cph | 240 | 2.25 cph | 2d 7h | 2.45 cph |
| | Pineapple Plant | 6 | 72 h | 50 | 140 | 1.11 cph | 168 | 1.5 cph | 2d 18h | 1.64 cph |
| | Mustard | 17 | 72 h | 118 | 296 | 2.33 cph | 370 | 3.36 | 2d 18h | 3.67 cph |
| | Balsa Bush | 24 | 72 h | 157 | 294 | 1.76 cph | 378 | 2.93 cph | 2d 18h | 3.20 cph |
| | Cumin | 26 | 72 h | 188 | 396 | 2.75 cph | 528 | 4.58 cph | 2d 18h | 5.00 cph |
| | Spinach | 30 | 72 h | 200 | 420 | 2.92 cph | 630 | 5.83 cph | 2d 18h | 6.36 cph |
| | Chickpea | 37 | 72 h | 203 | 444 | 3.21 cph | 592 | 5.26 cph | 2d 18h | 5.74 cph |
| | Cowpeas | 41 | 72 h | 206 | 462 | 3.42 cph | 528 | 4.33 cph | 2d 18h | 4.73 cph |
| | Swiss Chard | 48 | 72 h | 210 | 490 | 3.75 cph | 588 | 5.11 cph | 2d 18h | 5.58 cph |
| | Cowberry | 57 | 72 h | 236 | 528 | 3.92 cph | 704 | 6.36 cph | 2d 18h | 6.94 cph |
| | Garlic | 12 | 96 h | 164 | 354 | 1.88 cph | 472 | 3.1 cph | 3d 16h | 3.39 cph |
| | Pepino | 25 | 96 h | 200 | 414 | 2.13 cph | 552 | 3.56 cph | 3d 16h | 3.89 cph |
| | Zucchini | 27 | 96 h | 212 | 450 | 2.38 cph | 630 | 4.25 cph | 3d 16h | 4.64 cph |
| | Tiny Teak | 28 | 96 h | 163 | 335 | 1.69 cph | 469 | 3.08 cph | 3d 16h | 3.36 cph |
| | Spaghetti Squash | 31 | 96 h | 222 | 470 | 2.48 cph | 658 | 4.44 cph | 3d 16h | 4.84 cph |
| | Arugula | 45 | 96 h | 248 | 528 | 2.81 cph | 594 | 3.50 cph | 3d 16h | 3.82 cph |
| | Xanthic Mineral | 86 | 96 h | 289 | 675 | 3.92 cph | 945 | 6.73 cph | 3d 16h | 7.34 cph |
| | Snow Peas | 15 | 120 h | 112 | 336 | 1.78 cph | 384 | 2.18 cph | 4d 14h | 2.38 cph |
| | Blueberries | 33 | 120 h | 220 | 480 | 2.08 cph | 560 | 2.75 cph | 4d 14h | 3.0 cph |
| | Kabocha | 5? | 120 h | 243 | 728 | 3.96 cph | 910 | 5.48 cph | 4d 14h | 5.97 cph |
| | Iceberg Lettuce | 4? | 144 | 224 | 608 | 2.60 cph | 684 | 3.13 cph | 4d 12h | 3.41 cph |
Seasonal Crops
[
]
| Image | Crop name | Time | Plant Price | Normal Harvest | Normal Profit | Bonus Star Harvest | 1st Bonus Star Profit | 3rd Bonus Star Time | 3rd Bonus Star Profit |
| --- | --- | --- | --- | --- | --- | --- | --- | --- | --- |
| | | 2 h | 40 | 64 | 7.0 cph | 128 | 39 cph | 1h 50m | 42.39 cph |
| | Gumdrop Bushes | 2 h | 50 | 75 | 7.5 cph | 105 | 22.5 cph | 1h 50m | 24.55 cph |
| | | 4 h | 10 | 50 | 7.5 cph | 60 | 10 cph | 3h 40m | 10.91 cph |
| | | 4 h | 15 | 44 | 4.75 cph | 62 | 10.25 cph | 3h 40m | 11.18 cph |
| | Tropical Icing | 4 h | 26 | 80 | 11.0 cph | 240 | 51.0 cph | 3h 40m | 55.43 cph |
| | Cranberries | 6 h | 70 | 124 | 7.33 cph | 186 | 17.67 cph | 5h 31m | 19.21 cph |
| | Lucky Leaf | 6 h | 31 | 84 | 7.17 cph | 108 | 11.17 cph | 5h 31m | 12.14 cph |
| | Holly Berry Bush | 8 h | 123 | 189 | 7.00 cph | 243 | 13.75 cph | 7h 21m | 14.96 cph |
| | | 8 h | 25 | 69 | 4.25 cph | 115 | 10 cph | 7h 21m | 10.88 cph |
| | | 8 h | 35 | 80 | 4.38 cph | 100 | 6.88 cph | 7h 21m | 7.48 cph |
| | Ghost Berries | 8 h | 250 | 287 | 3.38 cph | 369 | 13.63 cph | 7h 21m | 14.83 cph |
| | Redcurrant | 8 h | 63 | 105 | 4.00 cph | 147 | 9.25 cph | 7h 21m | 10.05 cph |
| | Zombie Attack | 12 h | 55 | 88 | 1.92 cph | 132 | 5.58 cph | 11h 2m | 6.07 cph |
| | Squash | 12 h | 90 | 180 | 6.67 cph | 252 | 12.67 cph | 11h 2m | 13.78 cph |
| | Witch Hazel | 24 h | 89 | 187 | 3.67 cph | 221 | 5.08 cph | 22h 4m | 5.53 cph |
See also
[
]